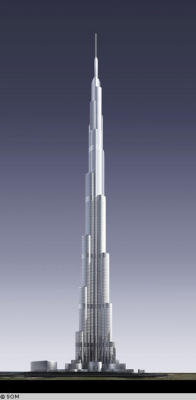 The super tall Burj Dubai will be the centerpiece of a large scale mixed-use development being developed by Emaar Properties PJSC of Dubai, which will combine residential, commercial, hotel, entertainment, shopping and leisure outlets with open green spaces, water features, pedestrian boulevards, a shopping mall and a tourist-oriented old town.
The design of Burj Dubai is derived from the geometries of the desert flower, which is indigenous to the region, and the patterning systems embodied in Islamic architecture. It combines historical and cultural influences with cutting edge technology to achieve a high-performance building which will set the new standard for development in the Middle East and become the model for the future of the city.
The tower is composed of three elements arranged around a central core. As the tower rises from the flat desert base, setbacks occur at each element in an upward spiraling pattern, decreasing the mass of the tower as it reaches toward the sky. At the top, the central core emerges and is sculpted to form a finishing spire. A Y-shaped floor plan maximizes views of the Persian Gulf. The design was selected as the winning entry of an invited design competition for the tower held by Emaar Properties PJSC of Dubai early 2003.
Construction started in January 2004 and will be completed at the end of 2009.
---
Галлерея HUBBLE Фотографии из космоса.
Fallen ART (Искусство падения) - мульт 3D.
Знаменитости ранее...
Саша Хюттерхайн — сайт фотографа
AV: pashis пашис — портрясные сюжетные фотографии
---
http://www.pixellogo.com/ — логотипы на продажу 🙂

---
Сисадминов — с праздником!